My name is Beth Wade, and I'm the owner, creatrix, and women's circle facilitator here at Fundamental Magick, LLC. I've been a practicing Witch since the mid-1980's and have been creating and curating magickal objects since 2009.
The first substantial item I made was for myself. I wanted a chest where I could keep all my incense and other magickal tools. I looked around at local metaphysical shops and online, however I couldn't find anything that fit the bill.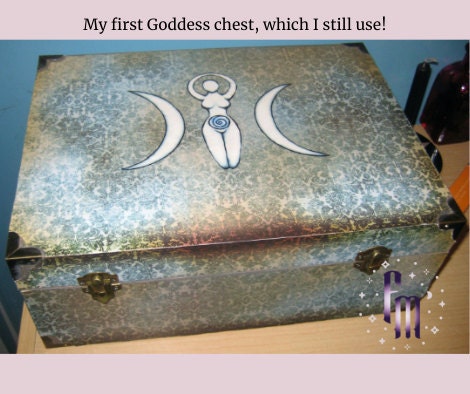 Being impressed with my work, I took the chest to my next Circle and showed my Sisters. They all loved it and asked if I could make more that they could buy. And so began my journey of creation and entrepreneurship.
My creations, skills, and inspiration have evolved and grown over the years and today I now make unique hand-poured witchy
candles
, curate one-of-a-kind mystery witch
boxes
, and even designed an
oracle deck
,which is now in its 3rd edition.

However, one of my most exciting current offerings is
plus size witchy t-shirts
that actually fit!
Again, born out of my own frustration at finding fun witchy t-shirts that actually fit me - I decided to create my own. After a lot of searching I was able to find a print-on-demand (POD) partner that offers high quality t-shirts that are subtly shaped to fit a curvy woman and not the usually boxy, rectangle unisex ones. Blessed be!
My hope has always been that you will find my items inspiring and joyful, and use them as tools to help you craft your most witchy and empowering magickal life.