Incense Spray
Regular price
Sale price
$11.00 CAD
Unit price
per
Sale
Sold out
These 2oz, hand-blended 𝐈𝐧𝐜𝐞𝐧𝐬𝐞 𝐀𝐥𝐭𝐚𝐫 𝐒𝐩𝐫𝐚𝐲𝐬 will help 𝘴𝘦𝘵 𝘵𝘩𝘦 𝘮𝘰𝘰𝘥, 𝘤𝘭𝘦𝘢𝘯𝘴𝘦 𝘺𝘰𝘶𝘳 𝘴𝘱𝘢𝘤𝘦 and 𝘴𝘶𝘱𝘱𝘰𝘳𝘵 𝘺𝘰𝘶𝘳 𝘮𝘢𝘨𝘪𝘤𝘬 𝘮𝘢𝘬𝘪𝘯𝘨. Also perfect for when burning incense isn't allowed or may present a hazard. May be used as a linen spray (𝘵𝘦𝘴𝘵 𝘢𝘯 𝘢𝘳𝘦 𝘧𝘪𝘳𝘴𝘵 𝘧𝘰𝘳 𝘥𝘪𝘴𝘤𝘰𝘭𝘰𝘳𝘢𝘵𝘪𝘰𝘯 𝘧𝘳𝘰𝘮 𝘵𝘩𝘦 𝘰𝘪𝘭𝘴 𝘶𝘴𝘦𝘥).⁣⁣⁣
𝐑𝐈𝐓𝐔𝐀𝐋⁣⁣⁣
Hints of citrus, 𝘣𝘦𝘳𝘨𝘢𝘮𝘰𝘵 and 𝘢𝘮𝘣𝘦𝘳 open up to a heart of resinous 𝐦𝐲𝐫𝐫𝐡 and 𝐟𝐫𝐚𝐧𝐤𝐢𝐧𝐜𝐞𝐧𝐬𝐞. Wood and incense notes are softened by powder and oud. Olibanum, patchouli, and coriander seed essential oils reinforce the earthiness of this spray. 𝘐𝘯𝘧𝘶𝘴𝘦𝘥 𝘸𝘪𝘵𝘩 𝘯𝘢𝘵𝘶𝘳𝘢𝘭 𝘦𝘴𝘴𝘦𝘯𝘵𝘪𝘢𝘭 𝘰𝘪𝘭𝘴, 𝘪𝘯𝘤𝘭𝘶𝘥𝘪𝘯𝘨 𝘤𝘰𝘳𝘪𝘢𝘯𝘥𝘦𝘳 𝘴𝘦𝘦𝘥, 𝘤𝘶𝘮𝘪𝘯, 𝘭𝘦𝘮𝘰𝘯, 𝘰𝘳𝘢𝘯𝘨𝘦, 𝘱𝘢𝘵𝘤𝘩𝘰𝘶𝘭𝘪, 𝘢𝘯𝘥 𝘰𝘭𝘪𝘣𝘢𝘯𝘶𝘮.⁣⁣⁣
𝐌𝐎𝐎𝐍 𝗪𝐀𝐓𝐄𝐑⁣⁣⁣
Top notes of apple, 𝐥𝐮𝐬𝐜𝐢𝐨𝐮𝐬 𝐩𝐞𝐚𝐜𝐡, and ripe 𝘨𝘳𝘢𝘱𝘦𝘧𝘳𝘶𝘪𝘵 reveal beautiful middle notes of 𝐜𝐡𝐞𝐫𝐫𝐲 𝐛𝐥𝐨𝐬𝐬𝐨𝐦 and 𝐡𝐲𝐝𝐫𝐚𝐧𝐠𝐞𝐚 with 𝘷𝘢𝘯𝘪𝘭𝘭𝘢 and hint of powder in the base balancing the sweetness. 𝘐𝘯𝘧𝘶𝘴𝘦𝘥 𝘸𝘪𝘵𝘩 𝘯𝘢𝘵𝘶𝘳𝘢𝘭 𝘦𝘴𝘴𝘦𝘯𝘵𝘪𝘢𝘭 𝘰𝘪𝘭𝘴, 𝘪𝘯𝘤𝘭𝘶𝘥𝘪𝘯𝘨 𝘰𝘳𝘢𝘯𝘨𝘦 𝘢𝘯𝘥 𝘨𝘳𝘢𝘱𝘦𝘧𝘳𝘶𝘪𝘵.⁣⁣⁣
𝐒𝐀𝐆𝐄+𝐏𝐀𝐋𝐎 𝐒𝐀𝐍𝐓𝐎⁣⁣⁣
A unique 𝐰𝐨𝐨𝐝𝐲, fruity/balsamic sweet base with 𝘤𝘪𝘵𝘳𝘶𝘴, 𝘮𝘪𝘯𝘵 and 𝐬𝐨𝐟𝐭 𝐬𝐩𝐢𝐜𝐞 nuances blend effortlessly with the 𝐡𝐞𝐫𝐛𝐚𝐜𝐞𝐨𝐮𝐬, robust middle and top notes. 𝘔𝘢𝘥𝘦 𝘸𝘪𝘵𝘩 𝘗𝘢𝘭𝘰 𝘚𝘢𝘯𝘵𝘰 𝘢𝘯𝘥 𝘚𝘢𝘨𝘦 𝘦𝘴𝘴𝘦𝘯𝘵𝘪𝘢𝘭 𝘰𝘪𝘭𝘴.⁣⁣⁣
----------

KEEP AWAY FROM CHILDREN AND ANIMALS - AVOID CONTACT WITH EYES
⁣
All of our signature scents are hand blended and created by a real Witch. We only use fragrance oils that are 100% phthalate, carcinogen, and reproductive toxin free.
If it's on the California Prop 65 list, it's not in our incense sprays.
Share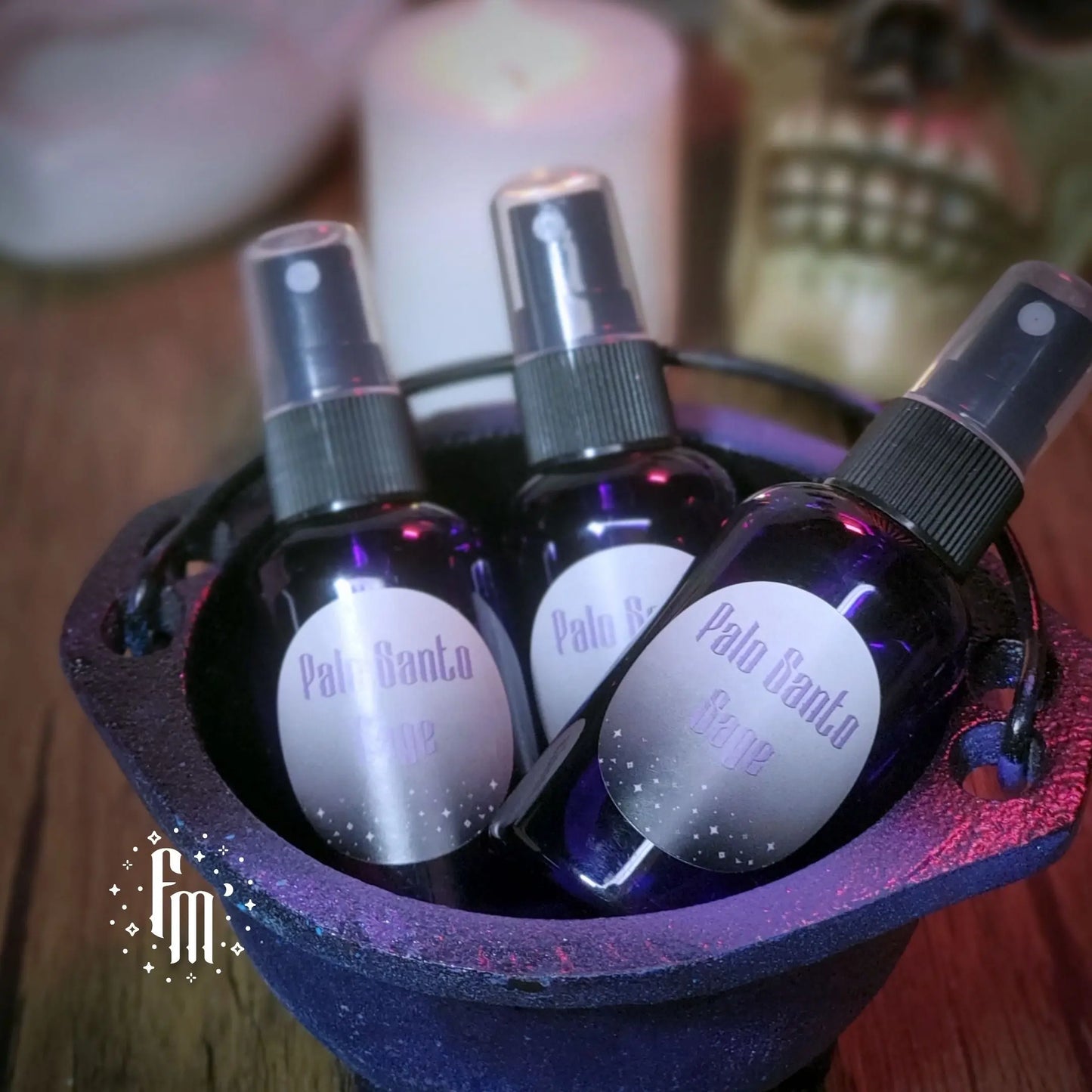 Definitely palo and sage!!! I especially love those two together so this spray is a frequent house spray now!! Beth's sprays are just amazing!! Thank you so much again girl!!! Love my crystal!!! Thank you for that too!! I appreciate you!!!